Business travel can be a daunting prospect, from the organizational and logistical side to the financial implications. One of the most important decisions a person will make when traveling for business is which airline to select, especially since there are so many to choose from. So, which ones are the best? Here, we'll give you 5 top options to consider for your business travel.
But first, which factors come into play when choosing an airline for business travel? Here are 3 major considerations we believe can make or break a business trip.
Reliability
First and foremost, reliability should be taken into account when choosing an airline for business travel. Many airlines are known for their less-than-stellar punctuality ratings, meaning your flight could be repeatedly delayed or even canceled altogether; not ideal when schedules have been organized around a given time.
So before setting off on a long trip away from home or the office, it's a good idea to look at the service records of different airlines and consider how dependable they are likely to be on journeys abroad.
Transportation websites like FlightStats and Airhelp allow you to monitor arrival times history to gain additional insight into this particular aspect before booking flights. Flightstats has a richer data set available but will cost a very small subscription price to view. Airhelp contains yearly overall rankings you can view for free.
If you want to increase your chances of making that sales appointment or big meeting, make sure you're picking a reliable carrier by using tools like these.
Value
Businesses should factor in pricing when planning business travel because it is a crucial part of making a trip successful. And if you're not careful, it can kill your budget too.
So taking in the cost of the tickets, as well as luggage and other fees, is a major factor when choosing an airline.
However, other details still matter more than money alone. Balancing employee happiness with the cost of a business flight is important since employees often want to feel as comfortable and stress-free as possible during their travels.
That can also benefit your company itself since a happy well-rested employee will be more successful than an employee running on pretzels and a 10-hour flight with his knees in his chest.
Therefore, businesses should aim to find a balance where they can maximize employee comfort without breaking the bank.
Flexibility
If you've been in the corporate world, you know that plans can change fast. So picking an airline that offers flexibility is especially important for any business traveler.
This means picking an airline that allows you or your employees to make changes and adjustments to their travel plans if needed, like rescheduling flights or changing destinations with minimal fees.
Such flexibility can be valuable if unforeseen delays or canceled flights are caused by inclement weather, illness, or a need to extend your trip.
Airlines that offer flexible options can also help you save money since they often provide discounts on rebooked tickets and packages.
Switching gears and receiving support from air carriers capable of providing alternative booking solutions when things don't go according to plan gives peace of mind, which is invaluable during tough times that can happen abroad.
With these factors in mind, here are 5 of the best airlines for business travel.
Best Domestic Airline: Delta Airlines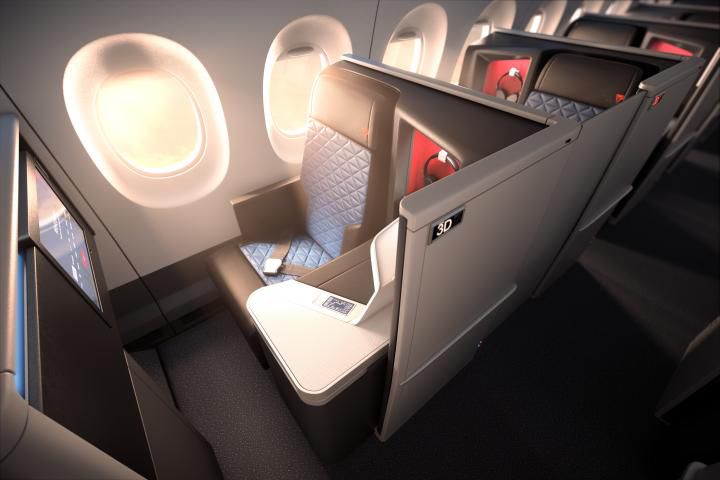 Delta Airlines is one of the largest airlines in the world, operating a fleet of over 800 aircraft and flying to over 350 destinations in more than 50 countries. Its current operations include domestic and international flights, as well as cargo and charter services.
Delta is also a founding member of the SkyTeam Alliance, which allows customers to access a broader range of destinations and services.
The airline has recently created numerous initiatives to improve customer experience, including a wide variety of seating options. Ranging from Economy, Comfort Plus, First Class, Premium, and the cream of the crop: Delta One suites.
Delta One is designed to take the travel experience to the next level, featuring privacy walls and extra-wide seats that fold into a bed, plus an oversized duvet and pillow.
Passengers can access extra storage, power outlets, USB ports, and in-seat entertainment. They can also enjoy complimentary meals, snacks, and beverages, providing a more enjoyable flying experience.
But you don't have to go all the way to the top to have a great experience. The mid-tier first class is a wonderful bang-for-your-buck option, giving you extra flexibility thanks to the wider seats, but also with your scheduling.
First-class grants you complimentary flight and seat changes and cancellations at no charge, including a full refund. Delta is also one of the highest ranked worldwide for on-time flights and the fewest delays and cancellations, giving business travelers peace of mind.
Delta Airlines also received the 2022 award for Best Airline Staff in North America, so their customer service is top-notch.
Add this to the superior passenger experience, flexibility, and reputation for reliability, and you have a fantastic option for business travel.
Best Value: United Airlines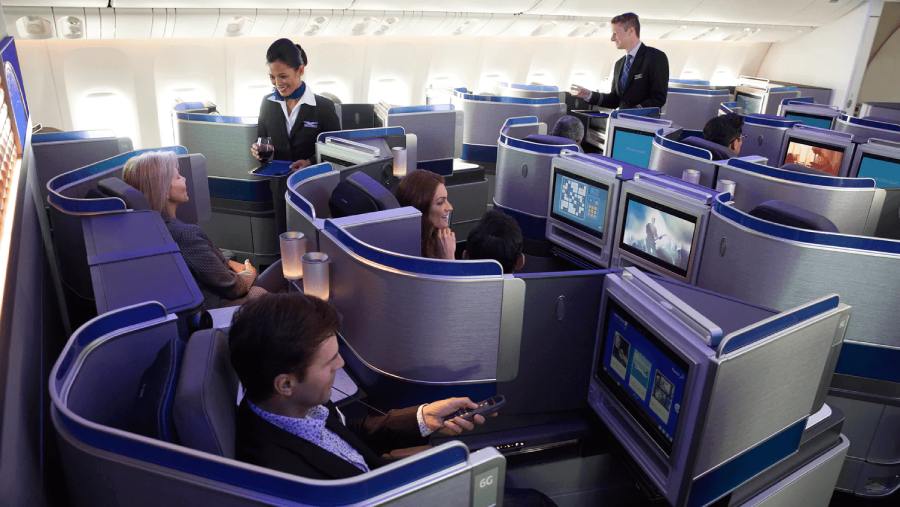 United Airlines is a major airline headquartered in Chicago, Illinois, and currently operates over 4,500 flights daily to more than 360 airports across six continents.
United is one of the largest airlines in the world and serves over 70 million customers each year. United operates domestic and international flights, carrying passengers, cargo, and mail across the globe. They are a leader in the industry and strive to provide customers with a safe, reliable, and comfortable flying experience.
United Airlines' Polaris business cabin is designed to provide passengers with a luxurious and comfortable experience. It features spacious seating, generous legroom and adjustable headrests, and power outlets to keep passengers connected and entertained.
Business class passengers also enjoy gourmet meals and drinks and complimentary amenities such as a duvet and pillow, noise-canceling headphones, and amenity kits. Not too shabby!
If you don't want to spring for so much luxury, their Premium Plus cabin features wide, comfortable seating for a more enjoyable flight than in the standard economy seats. But no matter which cabin you're in, you'll enjoy the inflight entertainment that was ranked #2 in the world by Skytrax.
United also offers access to its United Club lounge, where paying members can relax, enjoy refreshments, and take advantage of additional amenities.
Their solid and versatile rewards program means you can save money in the long run as well, offering you discounts on flights, rental cars, club memberships, and more.
United also scores highly on Airhelp's rankings, placing 3rd overall worldwide, mostly due to its solid reputation for handling claims due to cancellations and other errors.
It was a close call between United and Delta for the best domestic airline on our list. Still, Delta scores higher on several charts when it comes to reliability, with more on-time flights and fewer delays or cancellations compared to United.
And if you ask us, it's good to handle claims well, but better to have fewer claims in the first place.
Best Luxury Experience: Singapore Airlines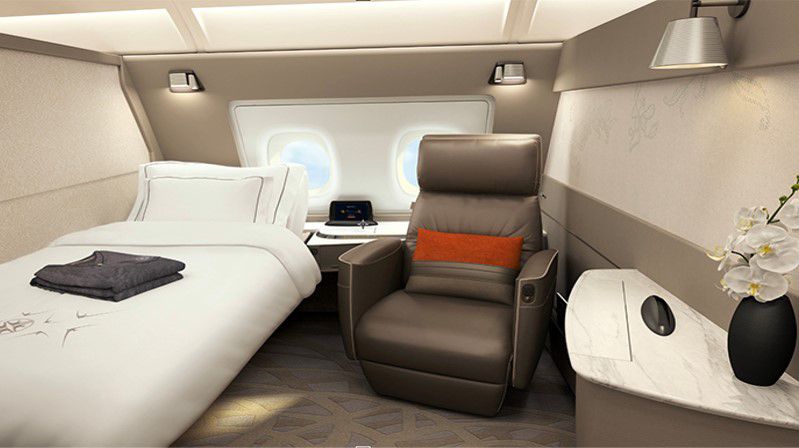 Singapore Airlines traces its roots back to 1941 and thus has been an innovator in the airline industry for decades. They have been recognized with numerous awards over the years, including being named the Best Airline in the World by Skytrax in 2018 and 2019.
The airline has also earned the following awards in 2022: Best Airline in Asia, World's Best Business Class Airline, World's Best First Class Airline, World's Best First Class Seats, World's Best Airline Cabin Cleanliness, and World's Best Airline Cabin Crew.
There's more, but I think you get the idea.
Their seating options have earned numerous awards for a reason – they have to be seen to be believed.
Their top offering is the Suite. Imagine a small hotel room, with a single bed, leather recliner, and a 32″ touch screen tv – and it flies through the air. Carpeted floors and extra large lavatories with makeup stations might make you forget you're on a plane.
But even in the "lower" tier first-class and business-class cabins are truly the best in the world, with high-quality leather touches, fold flat beds, and extra wide and luxurious seats.
Fine dining is available from Economy Plus and up – with a Book the Cook feature that allows you to reserve your meal from a world-class chef 24 hours in advance. Pretzels? Singapore Airlines has never heard of such a thing!
Singapore Airlines has also been recognized for its innovative customer initiatives, such as its KrisFlyer loyalty program, which rewards loyal customers with points for flights and other purchases.
They also offer the HighFlyer points program. With no minimum spend, it's easy for even smaller businesses to earn perks for their corporate travelers.
You can earn and use points for their partner airlines, including Scoot (more on them later). So you can earn points on the lower-cost airlines, and reward yourself or your employees with a flight on Singapore Airlines. How 'bout that?
These folks are the real deal, and yes, the price tag confirms it. But if money isn't an object, or you need to swoon a big customer on his way into your big sales pitch, then Singapore Airlines may just be your ticket.
Best Low-Cost Airline: Scoot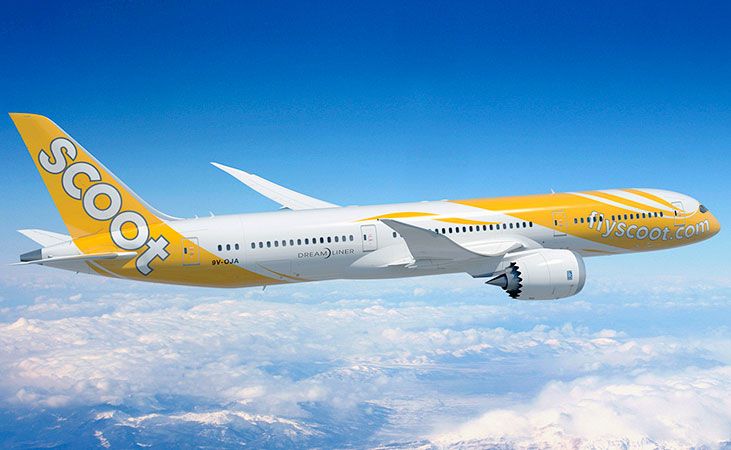 It's certainly the cutest-sounding airline on this list!
Scoot Airlines was founded in 2011 and, as mentioned above, is owned by Singapore Airlines. It's a low-cost, long-haul airline and launched its first commercial flight in June 2012.
It currently serves over 60 destinations across 14 countries in Asia, Australasia, Oceania, and Europe. Scoot Airlines offers a wide range of services such as in-flight entertainment, meals and drinks, Wi-Fi, and baggage allowance.
The airline has won multiple awards including the Skytrax 2022 award for Best Long Haul Low-Cost Airline.
Although Scoot is a budget airline, it still offers a few perks for business travelers. Their first-class option, ScootPlus, grants you priority boarding, flexible ticketing and rebooking options to accommodate changing schedules, priority baggage handling, and premium meals and drinks for a comfortable journey.
They also provide complimentary Wi-Fi, inflight entertainment options, and 22″ wide leather seats with double legroom to make business trips more enjoyable.
And don't forget, the airline is part of the HighFlyer rewards program, which means you can earn points to use toward Scoot flights, or splurge on a flight with Singapore Airlines.
With all these features, Scoot Airlines is a great choice for business travelers who are looking to save some money without being packed into a sardine can. The destinations are a bit limited beyond Europe and Asia, but with a bit of clever planning, Scoot can be used as a connecting flight when making big trips.
Best All-Around: Qatar Airways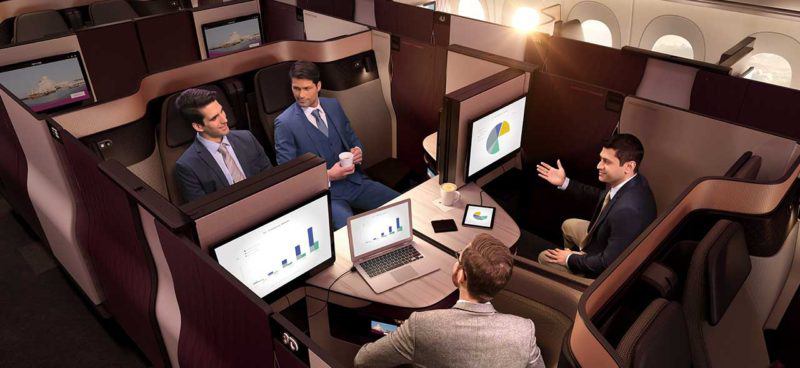 Qatar Airways is based out of Doha, Qatar, operating flights not just in the middle east and Asia, but worldwide. They consistently find themselves at the top of almost every airline ranking and for good reason.
While they may be a little on the pricier side of things, the value of flying with Qatar Airways can't be denied. They have earned Airhelp's top overall score for 2022, encompassing reliability, customer opinion (for which they ranked 3rd worldwide), and claims processing.
They're also 7-time winners of The Skytrax Airline of the Year Award. Passengers consistently report top customer service, plus a cabin that is roomy, comfortable, and stylish.
And for our aviation enthusiasts out there, it's one of the few airlines that utilize the iconic Airbus A380 double-decker plane!
When it comes to business travel, Qatar Airways holds the crown for best business class seating, which they call Qsuites. Whether on the outside rows of the plane or in the center section, you will always have aisle access.
All the extra-wide seats transform into a lie-flat bed for maximum comfort (long-haul flights come with sleepwear, slippers, and turndown service).
The inner rows can be configured to allow between 2-4 people to share a space to talk, work, or collaborate using the monitors in front of each individual seat. You can even plug in devices to present media on the monitors.
When it's time for shut-eye, the spaces can be easily compartmentalized, allowing each passenger privacy for sleeping or relaxing – made even better with the noise-canceling headphones provided for free.
If there's one minor knock against the airline, it's that their on-time performance ranked 23rd. It's something to keep in mind at least when making your travel plans if you have a tight schedule.
Thanks to their excellent customer service, passenger comfort, and more, they earn our mark for the top airline.
Make Your Next Trip the Best It Can Be
What do you think of our picks? Have you ever flown these airlines before? Be sure to leave a comment below to share your experiences.
And for more helpful data, visit Airhelp and Flightstats to view informative data to assist you in choosing your next airline. And visit Skytrax.com to see countless reviews for all the world's airlines, and to see which airline scored best in their annual awards.